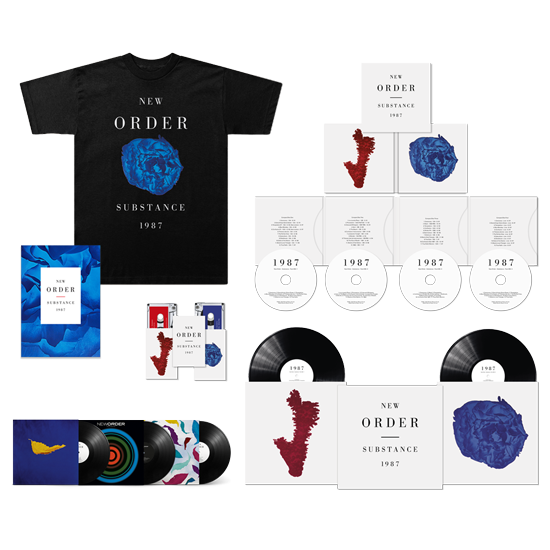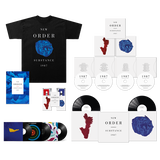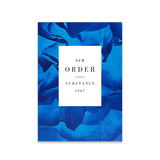 New Order
Substance '87 Ultimate Bundle
Pre-order included
Availability:
This item is currently not available
This bundle contains Substance '87 in 3 remastered formats, plus 3x 12" singles, the new black t-shirt and poster.
2LP - Remastered 2LP vinyl version of the classic 1987 compilation. Substance compiles all of the band's singles to that point in their 12" versions with their respective B-sides, plus the non-album single True Faith and B-side '1963' with new versions of 'Temptation' and 'Confusion'.
4CD Expanded Edition - includes the original album remastered across 2CDs, with a third disc of additional music, including tracks that were released exclusively on the cassette album. The final disc features 'Substance Live' – an unreleased concert from Irvine Meadows, California 1987.
Double Cassette - Special limited edition of 1000 and exclusive to the New Order store - double cassette version of the classic 1987 compilation.
Blue Monday 1988 12" Single - Five years after the original 'Blue Monday' was released, legendary producer Quincy Jones, who owned Quest Record (the band's US label at the time) decide to remix the classic track. The 1988 version reached #3 on the UK charts.
True Faith 12" Single - the classic New Order single that reached the top5 in 1987. Originally released in as the lead single from the band's classic compilation 'Substance '87', True Faith was co-produced by the band Steven Hague. One of New Order's most popular tracks, it's still played to audiences around the world today.
True Faith Remix 12" Single - remix of the classic New Order single by Shep Pettibone originally released alongside the 'True Faith' in 1987.
2LP
Side 1
Ceremony
Everything's Gone Green
Temptation 87
Side 2
Blue Monday
Confusion 87
Thieves Like Us
Side 3
The Perfect Kiss
Sub-Culture
Shellshock
Side 4
State Of The Nation
Bizarre Love Triangle
True Faith
4CD
CD1
Ceremony
Everything's Gone Green
Temptation 87
Blue Monday
Confusion 87
Thieves Like Us
The Perfect Kiss
Sub-Culture
Shellshock
State Of The Nation
Bizarre Love Triangle
True Faith

CD2
1. In A Lonely Place
2. Procession
3. Cries And Whispers (incorrectly labelled as Mesh on original release)
4. Hurt
5. The Beach
6. Confused Instrumental
7. Lonesome Tonight
8. Murder
9. Thieves Like Us Instrumental
10. Kiss Of Death
11. Shame Of The Nation
12. 1963
CD 3
1. Ceremony (Original)
2. Mesh
3. Temptation
4. Confusion (Original 12")
5. Dub Vulture
6. Shellcock
7. Bizarre Dub Triangle
8. True Dub
9. Confusion (Dub 87)
10. True Faith (Remix)
CD 4
Live from Irvine Meadows Amphitheatre, California 1987
1. Ceremony
2. Everything's Gone Green
3. Temptation 87
4. Blue Monday
5. Confusion 87
6. Thieves Like Us
7. The Perfect Kiss
8. Subculture
9. Shellshock
10. State Of The Nation
11. Bizarre Love Triangle
12. True Faith

Double Cassette
Cassette 1
Ceremony (Version 2)
Everything's Gone Green
Temptation 87
Blue Monday
Confusion 87
Thieves Like Us
Murder
The Perfect Kiss
Subculture
Shellshock
State Of The Nation
Bizarre Love Triangle
True Faith
Cassette 2
In A Lonely Place
Procession
Mesh
Cries and Whispers
Hurt
The Beach
Confused Instrumental
Lonesome Tonight
Thieves Like Us Instrumental
Kiss Of Death
Dub Vulture
Shellcock
Shame Of The Nation
Bizarre Dub
1963
Blue Monday 1988
Side A
Blue Monday 1988
Side B
Beach Buggy

True Faith
Side A
True Faith
Side B
1963

True Faith Remix
Side A
True Faith
1963

Side B
True Dub